It was the wee hours of August 19, 2019. I was at my parent's house. Jason went home to his condo that night because he needed to go to work the next morning. We spent the entire afternoon the day before walking around the mall, buying some baby stuff, and some things for our house. So, I was pretty exhausted.
I was used to waking up a couple of times at night by then because when you're pregnant, especially during the third trimester, you pee a lot. Like every hour a lot. And since my belly was so big, it's hard to find a good sleeping position.
So, like clockwork, I woke up at around 2 am, went to the bathroom, and peed. I went back to bed right after. I was starting to find sleep again when I heard a pop inside me. I thought maybe that's my water breaking. But I was only 8 months pregnant then. I wasn't due until a few more weeks. I waited for something to happen, but nothing did so I slept again. Woke up around past 3 am to pee again. As I was in the bathroom standing, water started gushing. I was like, oh sh*t, so that was my water breaking a while ago! It just didn't come out since I was lying down or something. Even though I went to a birthing class and was briefed on what I should do, I still panicked a bit. We immediately went to the hospital which was only 15mins away.
While on our way to the hospital, I was starting to feel some contractions already. I called Jason and told him I think my water broke already and I'm about to give birth. He was like "sabihan mo ko pag totoo na, para punta na ko jan" and I was like "anong pag totoo na? ito na yon pumunta ka na now na!" I was freaking out and I needed him by my side right away.
We were in the ER at around 4 am and when they did an IE I was 4cm dilated. I was chill at first. The contractions weren't that bad. I thought to myself, I can so handle this.
Jason arrived around 5 am. It took a while for me to get transferred to the labor room. When I got there it was around 6:30 am. I was a bit disappointed because I thought Jason could be with me through everything, it turns out he can't be in the labor room and can only be in the operating room once I start to deliver. So I was alone.
I asked the nurses how long do they think before I give birth. They said it'll probably happen after lunch since labor usually takes hours, especially for first-time moms. I remember feeling frustrated because I didn't know I'd be there by myself that long. I didn't even have my phone. But after a few minutes, I was starting to feel the pain. The contractions were getting so strong. I kept on asking and asking for an epidural or anesthesia or anything. (I already told my OB before that I didn't want to feel anything and I wanted an epidural.) The nurses kept saying that they were waiting for the message of my anesthesiologist to give the go signal and my OB isn't in the hospital yet.
The pain was really unbearable and I was begging them for meds already. I can tell that the nurses were starting to panic. The contractions were getting closer and I was screaming in pain. They didn't know what to do. I was starting to panic. And then they FREAKING LEFT ME in the room ALONE for like 15mins or so to find a doctor to help me. I was shouting and calling them because I really can't take the pain anymore. My OB still wasn't in the hospital. I was already feeling the urge to push. Once you feel it, you can't stop your body from pushing. It's automatic. I couldn't help it. I was pushing already. The nurses were frantic. I can hear them talking asking one another, "marunong ka ba mag IE?". I can hear the beeping sounds from the machine that's been monitoring both me and my baby. She was already in distress. I got scared cause what if something's wrong with her. Nobody in the room seemed to know what to do. I felt like they weren't prepared since they assumed I wouldn't deliver for a few more hours.
After what felt like an eternity of waiting, they managed to get a hold of an OB resident. When she checked me down there she said "kailan pa 'to ganito?". Then she immediately instructed them to bring me to the operating room. Everyone was just zooming. The OR wasn't prepared yet and everyone was rushing to get things ready. Around 10 people walking frantically everywhere trying to prepare for the delivery. The stands thingy for my legs weren't even fixed yet. When they tried to raise my leg to put in there, it kept on falling on me. While all of this was happening I was in freaking hell. The contractions were so bad I was squirming and shouting like crazy. Still, no anesthesia.
I felt another urge to push and but they were telling me not to push yet cause my OB wasn't there yet but I told them I can't stop it anymore. So the OB resident did what she had to do. After 2 rounds of pushing, Ellie came out. 8:22 am.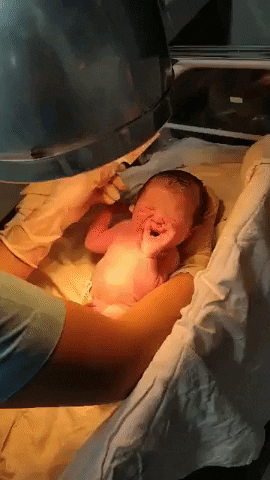 It was so freaking fast. The pain felt like an eternity but everything happened so fast. It was so fast that Jason almost missed it. After they wheeled me in the labor room, he went to the canteen to eat breakfast and if he didn't come up right away he would have totally missed all of it. Hell, my OB missed it.
First words that came out of my mouth when Ellie came out was, "Bat di siya umiiyak?" I was worried that something might be wrong with her but after a few seconds I heard her cry and the relief rushed through me. I can tell that Jason was already by my side. I was so tired and the anesthesia, which they finally gave me like less than 5 minutes before I gave birth, was kicking in. I remember them putting Ellie on top of me and taking pictures of us. I remember them trying to latch her on to me. Then I had to push one more time, for the placenta birth. The last thing I remember was Jason going with Ellie to get checked out while they were stitching me up. I wasn't really able to process anything at that time, I was so tired. In my head, I was just like, thank god it's finally over and we're both okay.
The next thing I know was I was in the recovery room. They woke me up because Ellie needed to feed. They were trying to latch her on to me. I was still so out of it so I passed out. When I finally gained consciousness, I was still in the recovery room. I was drenched in blood. It felt so uncomfortable. If I hadn't asked them to help me get cleaned, they would have wheeled me in my room like that. I don't know what the protocol is for that, but I felt they could have cleaned me up a bit after the delivery.
I was in my room, where Jason and my family were waiting for me at around 11 am. Ellie was still in the nursery being monitored since she's a premie. I was so disappointed and traumatized by my birthing experience at that hospital. I felt like they weren't prepared. What if Ellie and I were in a much critical condition? We could have died because of their lack of everything! You'd think they'd have a protocol for these things. I felt like my birth experience would have been better if I gave birth in a different hospital.
The only upside was Ellie's finally with us and we can finally see her and hug her. Or so we thought. She actually ended up staying in the neonatal ICU for 2 weeks! The worst 2 weeks of our lives. (Will share the story on my next blog.)
Now that it's been a year, I feel like my birth experience generally wasn't that hard. I had a spontaneous delivery which I think is a good thing. I didn't experience having to go through hours (or days for others) of labor. The pain I felt, although excruciating, was relatively quick. If only the hospital had handled it well, and I got the epidural that I wanted, I think it would have been a smooth, fast, and easy delivery. I'm just thankful that everything turned out okay and Ellie and I are safe.